Measure the height of the figure in the picture, let's say it's 12.6cm tall.

Now divide your proposed height into the height of your small figure.

The answer that you get is the amount you will use to multiply each segment of your design to insure so that you get a perfectly proportioned cake.

Example: My cake will be 65cm tall, my figure in my picture is 12.6cm tall.
65cm divided by 12.6cm
Answer is: 5.2cm

So for every cm represented on your small picture equals 5.2 cm on your larger drawing.

This will be your scale that you use. 1:5.2

Then take your photo/drawing divide it into segments. Ie head, neck, upper body, lower body, legs, shoes, arms etc. by drawing a line at each segment.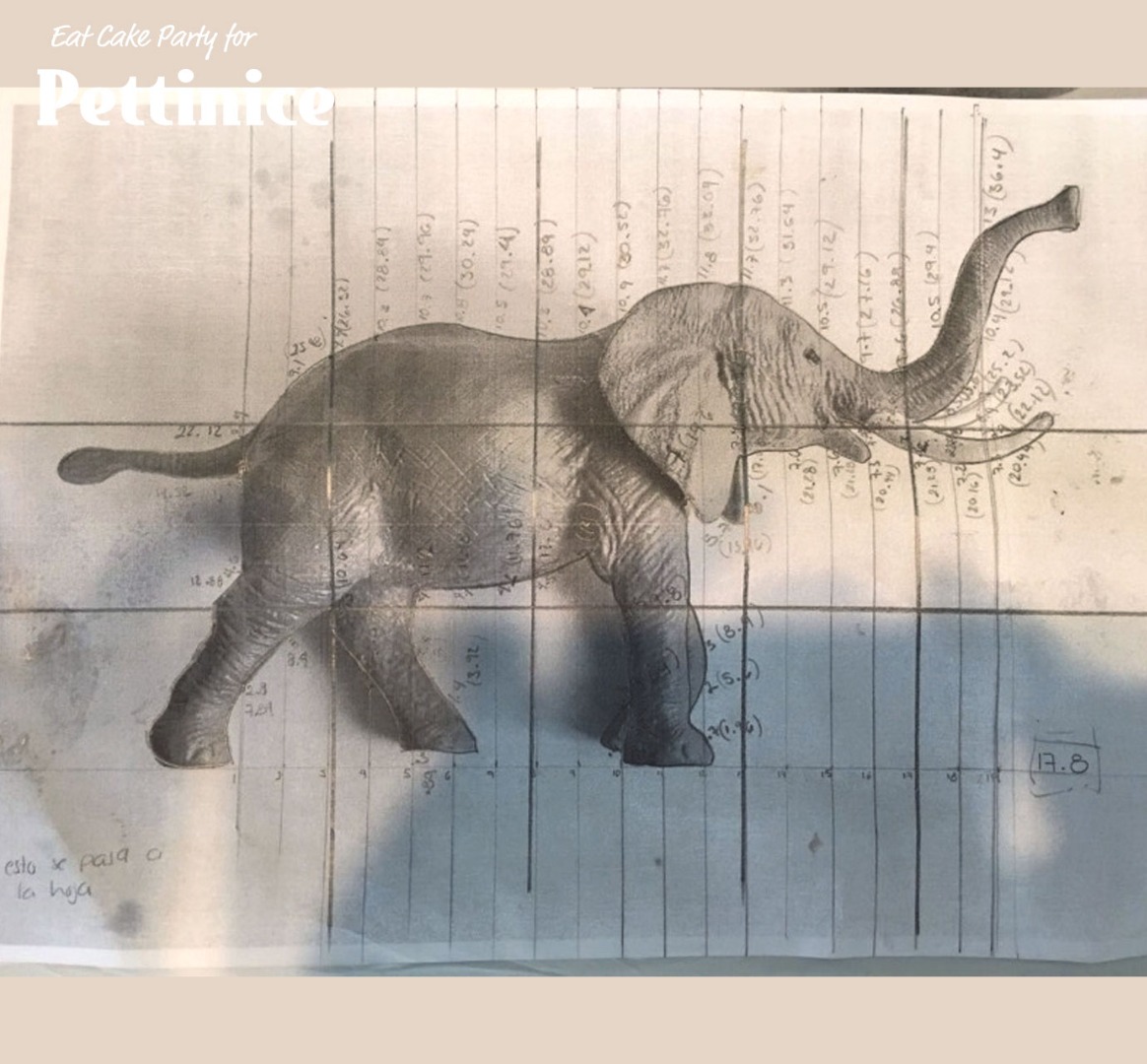 Measure each segment exactly.
Multiply each segment by the number you have above.
The sum of these numbers should equal 65cm.
Now you need to transfer these measurements onto paper so that you can make a template for both determining your inner structure and for sculpting your cake.
We will start by marking a cm line above the base of your drawing paper. This will give us a gap to add any structure we may need to add. Then draw a 900 line up from your cm line, this we will call our mid line. Draw a similar line through the middle of your small picture's figure. No worries if it's not exactly in the middle or if your picture is asymmetrical.
Add each segment's measurements in from bottom to top.
Taking your smaller picture, draw a line at the base of the figure, and at the top of your figure. Working from the bottom up, mark off each cm till the top line.
Then return to your paper. We now need to take these measurements and create the scale drawing. So on your page, mark off every 5.1 cm.
Returning to your smaller picture. We now need to measure the width of your picture at each cm marked off. Write the measurement on your picture at each cm mark so that you can return to it and multiply to get your scale measurement.
Once you have done all your sums, return to your larger drawing. It is easier if you number each cm from the base line on both pages so that when you transfer the measurements you don't get too confused. Each number on the smaller figure represents a number on the larger drawing.
If you have a symmetrical design, then you can take the width measurements and divide them in half and using your mid line on your larger pg, mark with a small dot the halved measurement on each side of the mid line. Do this with each cm from your small figure till you have the last measurement. You should then be able to join the dots and your outline of your cake template will appear.
If you have an asymmetrical design, then you will need to take the measurements from the midline out to the edge of your figure and calculate each one separately. Add them on your larger drawing the same way as the symmetrical one, but don't divide the measurements add them from your mid line both to the left and to the right.
Once you have drawn your scale template, you may need to make a side template if your 3D design is a little more complicated.
It's not easy to find a side view picture that will always be the same size and scale as your front side, but no matter!
We already know that our cake will be 65cm tall. So we can again measure our smaller side figure and divide that measurement into the 65cm that we already know to determine the scale that we need to calculate the next template. This can again be done with a third template say perhaps if you had a front, side, and top template needed for your cake.
Once you have drawn your templates, they can also be used to calculate your inner structure or armature.
It will be easier to see where you will need to support the cake, and once you have worked this out, you will be able to measure each segment and use the template to make sure it all lines up.
Also you will have a better idea of what size cake to bake along with an idea of how many people your cake will feed.